The industrial aluminum profile is one of the best choices if you want a quality and strong structure. It is also easy to work with, thus making work on construction sites easier. Moreover, industrial aluminum profiles have been widely used for cooling purposes in electronic products and these profiles provide the best coolant for any electronic product. When you buy from Foshan Liangyin, you are sure to get quality industrial aluminum profiles and we provide you with the best services ever.
Foshan Liangyin is one of the largest and leading aluminum profile factories in China. It is widely known for producing high quality industrial aluminum profiles that do not disappoint at any time.
With our long experience in the industrial aluminum profile production market, you can rest assured that you will receive the highest quality aluminum profiles, which will provide a lasting solution for all your electronic product manufacturing.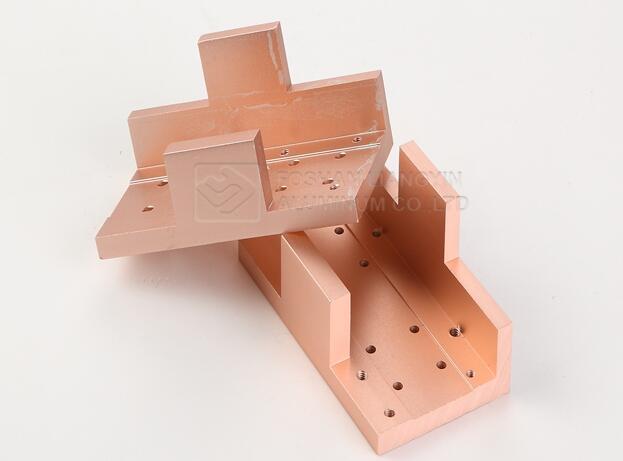 CNC machining high quality industrial aluminum parts
About industrial aluminum profiles
Industrial aluminum profiles are available to you in a variety of finishes and in a wide range of alloys and temperings. With this, you can choose the industrial aluminum profile that best suits your needs and the one that best suits your manufacturing process. Foshan Liangyin specializes in the production of a wide range of high-grade aluminum profiles, using advanced construction technology.
We have our own melting furnaces as well as homogenizing furnaces for the production of aluminum billets, thus providing you with pure aluminum alloys only at the output. If you need a chemical composition test report or a mechanical properties report, our company is ready to share it with you. This is to ensure that you are always assured of the quality of the aluminum profiles you receive.
Quality Assurance
To ensure that you get the best service, it is important to know the quality of the industrial aluminum profiles you purchase. This ensures that the industrial aluminum profiles you produce meet local and international standards. During production, we perform quality checks on each process to ensure that the products are fully qualified. Therefore, you will never receive poor quality industrial aluminum profiles from our company.
Product Description
Place of Origin: CN, GUA
Grade: 6000 series
Alloy Or Not: Is Alloy
Brand Name: LIANGYIN
Type: Aluminum extrusion profiles
Color: Nature sliver or Customized
Thickness: 0.6mm-Customized
Surface Treatment: Mill, Anodized, Powder Coated, Electrophoresis, or customized
Certification: ISO9001-2015
Fabrication: Cutting, Drilling, Tapping, Punching, Bending, etc
Payment term: T/T, L/C, etc
The Use of Aluminum in Electronics 
Since its development over the past few decades, aluminum has become a material that replaces other metals, mainly due to its lightweight and environmental friendliness. Since production costs and carbon emissions are of great concern to industries around the world, the use of aluminum helps to address these issues.
Many industries rely on the use of aluminum in their products and machinery. These industries include aerospace, automotive, manufacturing, construction, and medical. Another common place where aluminum is used is in electronic and electrical equipment.
How is aluminum used in electrical and electronic products?
Aluminum is one of the most versatile types of metals used in a variety of industries. Because of its properties such as ductility and electrical conductivity, aluminum has become a widely used material in electronic and electrical products. The following are some of the most popular uses of aluminum for electrical purposes.
Equipment enclosures
Aluminum has become one of the most common materials used by different companies when it comes to providing lightweight and eco-friendly enclosures for different types of electronic devices. These devices include laptops, smartphones, digital cameras, game consoles, digital watches, and even high-definition televisions. Compared to using heavier metals or more fragile plastics, aluminum is the best choice because it is cost-effective, versatile, and very durable. Electronic devices are designed to be efficient and convenient, which is why aluminum is used as one of the metals for its products.
Over the past decade, aluminum equipment enclosures have gained popularity among companies and are now one of the standard ways of manufacturing equipment around the world. As technology becomes smaller and lighter in the near future, the use of aluminum is the key to making it possible.
Computer parts
In electronic devices, aluminum is a key component of computer parts. There are many different metals present inside of a computer, all of which help the computer perform different functions smoothly and efficiently. Aluminum is the metal used to create the heat sink for your computer. Heat sinks are designed to trap all of the heat presents in your computer while preventing it from hitting other critical components.
In addition to being a key element of the heat sink, aluminum is also used to make other components such as PC cases, monitors, and other devices. Having the right metal is important to make a computer run properly, which is why aluminum helps turn it into a more efficient device.
Power lines
One of the most common applications for aluminum in electrical products is for power lines. These power lines have long been the primary method of transporting electricity across different distances. Power lines have been using this material since the development of aluminum in the early 20th century. Aluminum is an effective material for use in power lines because they are lighter compared to materials such as copper.
Although it is not as conductive as copper, it is much easier to manufacture power lines using aluminum because it is ductile and more flexible material. Aluminum is also resistant to different forms of corrosion, allowing it to withstand the extreme conditions that power lines are subjected to. As power lines continue to become routine fixtures, aluminum will play a huge role in the way the world supplies the electricity.
Power systems
In addition to its use in power lines, aluminum is one of the metals used in electrical grids and other power systems. Aluminum's electrical conductivity allows energy to be distributed in a fast and efficient manner. One of the reasons for the increased use of aluminum in power systems is the cost of manufacturing. While copper is good conductive metal, it is more expensive to produce, which can be difficult for different manufacturing companies. Aluminum offers the right balance between conductivity and price, making it an ideal material for a variety of electrical equipment.
Electric motors
Another type of equipment that uses aluminum is the electric motor. Electric motors are designed to move different parts around to perform different functions. Electric motors come in different sizes, and each type is used in industries such as manufacturing, automotive, and aerospace. While common motors are powered by fuel, electric motors can run on batteries, which can make them portable and easier to manufacture. Aluminum is primarily used in the body of the motor itself, providing a lightweight and durable structure that can withstand high temperatures and extreme conditions.
Key points
Aluminum has become one of the top metals used in manufacturing, products such as electronics and electrical equipment. Due to its lightweight, strength, and electrical conductivity, aluminum provides a robust material for these products that perform well in a variety of conditions and applications.