Since its appearance in the automotive sector in 1899, aluminum has taken a more leisurely approach to establishing itself as the "manufacturing material of the future. Ford Motor Company kicked off the material's belated launch party with the production of 97 percent aluminum body and chassis components for the 2015 F150 truck.
After more than a century of increasingly mainstream use of aluminum - through continuous processing, manufacturing and alloy innovation - the material appears to be (finally) here.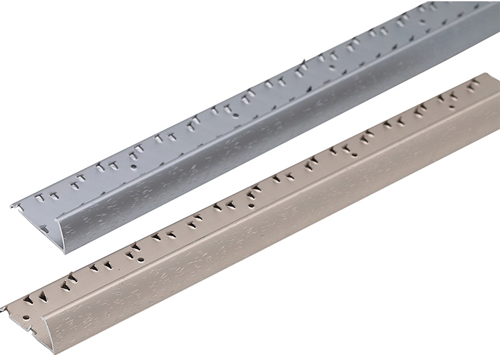 Customized Aluminium Extrusion Base Board Tile Trim Profile Aluminum Manufacturer in Foshan
Extruders
Each aluminum alloy has a different element added and a modified extrusion process to achieve the specific goals of extrusion.
But aluminum's contributions are not limited to design and engineering solutions for automotive lightweighting. Its popularity is growing not only in transportation, but also in construction, solar, medical, electronics and other industrial applications.
The growing popularity of aluminum in thousands of everyday items proves that the material is high-end horsepower that will drive a historic shift in the way steel deploying manufacturers design, develop, manufacture and integrate components or assemblies. This is especially true in the context of thinner production budgets, tighter production schedules, complex supply chains and increased competition.
But advances in aluminum-based product design and engineering are not just based on its alloys. There is a parallel story of how design and manufacturing methods with aluminum have evolved. This story is filled with the lessons manufacturers have learned - and the technologies they have perfected - in manipulating aluminum for a broader range of applications.
With the rise of the aluminum industry, it's time to evaluate extrusion as a "force multiplier" for materials. In this case, extrusion is a production technique and technology that, when combined with the growing popularity of aluminum, can foster innovation faster and more broadly in product development and manufacturing.
The accelerating pace of innovation in the automotive industry is a good indication that aluminum is not only used for stamped structural applications driven by lightweighting. And, an AEC-sponsored report predicts that the average weight per vehicle of aluminum extrusions for all vehicles will nearly triple over the next 10 years, indicating the growth of the material.
Elsewhere in the transportation sector, trailer manufacturing previously required bending, fabricating and welding sheet metal. Today, OEMs manufacture trailer frames and components using lighter, one-piece extrusions for sliding assembly. Similarly, solar manufacturers continue to improve the durability of aluminum extruded racks and mounting systems by using versatility to add material exactly where it is needed and focus on strength or durability.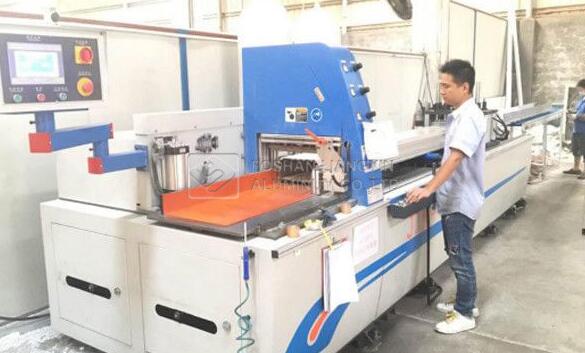 IMPORTED PRECISION CNC CUTTING MACHINE
OEMs seeking guidance on aluminum extruders early in the design phase can benefit from selecting the best alloys, surface finishes and special characteristics to achieve their product development goals.
For each manufacturer, the focus from development to delivery is "what happens next?" The press coverage of the anticipated new Ford F150 correctly identified the proliferation of aluminum as a revolutionary development in the automotive industry. The top words used to describe how aluminum will impact the future of automotive manufacturing consistently support the material's "game changer" status. For medical device OEMs, stringent material performance standards in medical applications have made stainless steel the traditional specification for sanitary use and maintenance requirements. However, with proper finishing treatments - including artificial aging and anodizing - extruded aluminum can be less porous and cleaner than stainless steel. The inert compounds in aluminum, combined with proper finishing techniques, help prevent corrosion and chemical absorption that
The storyline of extrusion includes parallels to the automotive appearance of aluminum. Extruded aluminum has steadily gained relevance and strategic status in every aspect of manufacturing, especially product development and supply chain optimization. But the process has proceeded relatively quietly.
The old-school tradition of aluminum extrusion - with the exception of wartime applications in the early 20th century - has not been heavily industrialized. Today, extruded aluminum parts and assemblies are a strategic element in industrial manufacturing, playing a key role in enabling OEMs to reduce product lifecycle costs while making incremental functional improvements in product design, engineering and performance.
But manufacturers - influenced by an understandable bias toward more familiar materials and processes - often experience only a fraction of what extrusion makes possible.
This Is Not Your Father's Aluminum Extrusion
The point where aluminum properties intersect with extrusion is manufacturing industry proof that the whole is greater than the sum of its parts. There is a "perfect storm" where lightweight, high-strength aluminum meets the design and engineering versatility that extrusion enables.
Different aluminum alloy properties offer different benefits. The 6000-series alloys, for example, ease extrusion and offer bending and forming flexibility, along with high strength-to-weight ratios. Combining the ability of concentrating strength where needed – plus using heat treatment to artificially age and harden the aluminum following extrusion – drives a part production process that is less expensive and cycles faster than traditional machining. A manufacturer can extrude precision-engineered, high-tolerance aluminum lengths of 125 feet in minutes, cut it quickly, and artificially age it over a few hours.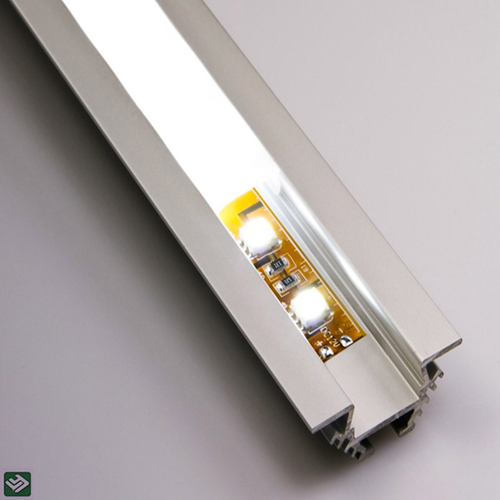 Custom Aluminum Extrusion Profile For Led Lighting Waterproof Heat Sink Aluminium Box
Extruded components designed with screw bosses, hinges and many other features, allows them to incorporate easily with mating components. The metal alloy's properties, combined with surface finishing, offers easy-to-care-for finishes and non-corrosive material properties, giving designers the wear resistance and reliability they need.
Consider the potential for innovation where appropriately alloyed and treated high-tensile aluminum connects with extrusion to form complex, near-limitless shapes and profiles that can reduce (or eliminate) machining, joining, fabrication and assembly operations, along with shipping and handling required for multiple processes from multiple vendors. And that is before factoring in short lead times for extrusion tooling or less expensive tool costs – particularly for achieving close tolerances – compared to alternatives like machining, die casting, roll forming and metal stamping.Extrusion dies, meanwhile, open the door to virtually unlimited design versatility and enhanced manufacturability. The ability to easily integrate design features reduces secondary processing like machining and welding, drives down material cost and reduces part counts. Die design versatility includes incorporating lap joints, dovetails or hinges to streamline assembly when mating with other components. Extruded components can also use T-slots for adjoining bolts to reduce or eliminate machining or welding.
Today's inventory of extruded aluminum characteristics tracks very favorably with an R&D wish list for materials and processes that add value in areas like design versatility, streamlined product development, manufacturability, cost-to-produce, cost-to-assemble and performance. As a result, using a "total cost to produce" analysis and validation, even the higher material cost of the alloy compared to steel increasingly falls away as an obstacle to designing with or transitioning to aluminum.
Weight
Aluminum is about 1/3 the weight of iron, steel, copper or brass, making aluminum extrusions easier to handle, less expensive to ship, and relevant for applications where weight reduction is a priority.
Strength
Aluminum extrusions can be made as strong as necessary for most applications. Extrusion can concentrate strength where it's most needed by varying wall thickness and including internal reinforcement in the profile design.
Strength-to-Weight
The unique combination of high strength and low weight makes an aluminum extrusion ideal for applications where load-carrying is a key performance indicator.
Seamless Constructs
Extrusion can achieve complex shapes in one-piece sections without relying on mechanical joining. The resultant profile is typically stronger than a comparable assembly, and less likely to break, loosen or leak over time.
Customization
The ability to design a profile to meet specific functional, aesthetic and manufacturability objectives makes extruded aluminum a preferred element in product solutions.
Time-to-Market
Aluminum extrusion tooling is relatively inexpensive and involves generally shorter lead times, which facilitates faster prototype development, testing and product launch.
Fabrication and Assembly
Effective aluminum extrusion design can greatly simplify subsequent fabrication and assembly. Producing extrusion-based components and assemblies routinely employs a wide variety of fabrication processes.
Corrosion Resistance
Aluminum extrusions offer excellent corrosion resistance; they do not rust. A naturally occurring oxide film protects the aluminum surface. Anodizing and other finishing processes can enhance protection.
Table 1: Examples of aluminum extrusion characteristics that add value in product development.
How to Evaluate Extrusion Fit
Maintaining creative energy and forward momentum is critical for every manufacturer. Innovate out of necessity. Innovate by exploiting a specific opportunity. Take the risks inherent in breaking new ground.
Without routinely doing some or all of the above, the year-over-year productivity gains manufacturers grind out in percentage fractions are unlikely -- and probably impossible. Most important, if productivity lags, underperformance on profitability and competitiveness follows. That's especially true within segments or markets where forward-looking competitors set the pace.
But R&D-stage resources have limits. And supply chains already have too many moving parts. Given those realities, supply chain collaboration, efficiency and value creation are critical. It is essential to put an OEM's product expertise and a supplier's specialization together for the specific purpose of moving beyond incremental change and taking outcomes to the next level.
Is aluminum extrusion that kind of opportunity? It's probably more relevant than previously perceived, especially if OEM product development functions have yet to focus on the option. But extruded aluminum is becoming more relevant all the time. Ford ultimately justified and produced a 97-percent aluminum truck body and bed.
The same is true for supply chains that are incorporating extruded aluminum components in certain scenarios but have not transferred the approach to other projects. The reason? Material and process biases are real; they come from previous knowledge, experiences and solutions that have worked to this point.
At the same time, there is the saying, "if all you have is a hammer, everything tends to look like a nail." What will it take to make the shift?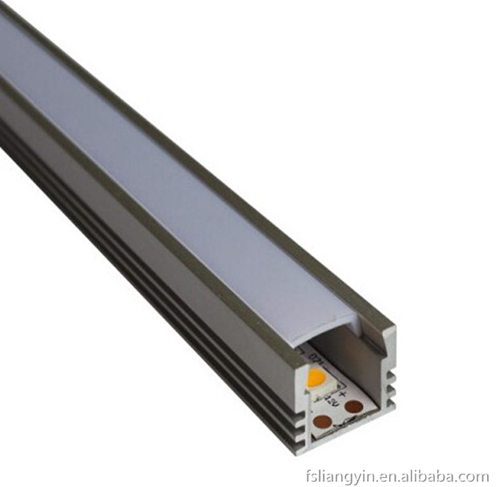 Custom led light Aluminum extrusion profile aluminium light enclosure with cnc ES
Here are five questions – filters based on key design, production and performance variables – product development teams can apply to determine whether there is reason to start – or move deeper into – aluminum extrusion adoption:
1. Can any other metal make the sustainability contribution?
A discussion on the key advantages of extruded aluminum is incomplete without noting the process not only can deliver highly complex, tight-tolerance and light-but-strong components but also does so while utilizing the only material that can be recycled indefinitely without losing any of its properties.
Taken to the extreme – and putting the sustainability impact in manufacturing context – no extruded aluminum component should ever end up in a landfill.
2. Is there room in the supply chain to shorten 'time-to-market' delivery?
There is unlimited information on supply chain best practices for optimizing industrial manufacturing that turns "possibility into product" as fast and efficiently as possible. In a perfect world, the objective is to reduce lead times while simultaneously delivering quality that helps an OEM differentiate itself in the marketplace.
At today's pace, and in the context of what it takes to compete on new products, the real question for suppliers and OEMs is whether achieving only incremental change will be sufficient. Most likely, it is not. "Steady improvement" will compete less successfully with a supply source – and a manufacturing process.
The nature of aluminum extrusion, in general, and in comparison to other methodologies, offers a dramatically faster turnaround for R&D-stage projects. That's especially true if the OEM brings extruded aluminum expertise into the product development process early. Under that scenario, it may be realistic to expect extrusion dies and prototype parts as rapidly as two weeks from request.
Equally critical, the R&D process utilizes components that reflect an actual production state instead of working with lesser parts that represent a "dumbing down" prototype phase.
3. How much upside can extrusion-driven design flexibility and customization create?
An industry rule of thumb says that 70 to 80% of a product's cost is determined at design completion. Experience also indicates that a manufacturer commits to 60% of cumulative lifetime cost even earlier, at the concept stage.
The permanent pressure of cost reduction alone justifies the high frequency of incoming prints that result in some degree of supplier redesign. If an OEM aspires to the philosophy that everything can be made better, it's understandable and expected that design improvement happens regularly in the hands of a supplier that sees the big picture using a specialized perspective.
All of this makes design improvement an automatic, across-the-board opportunity within the supply chain. The variable that distinguishes one supplier from another, or one production process from the next, is how much an OEM can move the needle. How high is the upper limit on making something smaller, lighter or faster? What is possible in terms of reducing material handling and processing or eliminating secondary manufacturing processes?
The potential in combining multi-benefit extrusion with "the material of the future" should lead to higher expectations for what is possible across the component manufacturing space.
As an example, the extrusion process' ability to add or take out profile features – in order to optimize weight-to-strength – lets the OEM take a custom approach to design, rather than being constrained by off-the-shelf material stock. The potential increases further when product R&D includes early, upstream OEM and supplier collaboration on what extruded aluminum can accomplish.
4. Is aluminum really strong enough? How does the high strength-to-weight ratio come into play?
Driven by manufacturers desiring to push the envelope on aluminum use, material suppliers are working aggressively to develop alloys that significantly narrow the difference with other materials in strength properties. The alloys advancements also upgrade properties-driven performance in areas like machinability, formability, hardness and wear resistance.
Equally important, aluminum extrusion can put metal where component function and performance require it most. Extruding a critical feature like a web, for example, can reinforce a square aluminum tube. Putting metal where it's needed – and avoiding profile density when strength is non-critical – can reduce weight by one-half to two-thirds, depending on how much aluminum is required.
The buzz around the Ford F150 comes from success in using aluminum to make the truck as much as 700 pounds lighter than previous -generation models. The improvement, as Popular Mechanics described it, equates to removing the entire engine – without comprising strength and safety. Not every fabrication project scales to that level of strength-to-weight. But when properly done, aluminum extrusion has the capacity to achieve the same outcome in a broad range of applications.
5. Does corrosion complicate developing a complete, single-source solution?
Longevity and durability play a critical role in functional performance. Appearance matters when the application includes an aesthetic objective like the mirror finish on a medical device. Any susceptibility to corrosion undercuts longevity, durability and appearance performance.
Aluminum is the most corrosion resistant of the metals commonly used in manufacturing. The substrate's naturally occurring oxide film creates surface protection that turns away the threat from outdoor elements, corrosive environmental conditions, or exposure to materials with corrosive properties. Anodizing and other finishing processes can enhance protection further.
Bridges, semitrailers, docks, large shipping vessels – and now a Navy carrier constructed using a significant amount of aluminum – are corrosion-resistant application examples from a heavy industry perspective. Examples of "severe-duty" consumer market applications include solar energy structures and an increasing array of medical technology innovations. Across the board, there are fabrication challenges manufacturers can meet much more effectively by using extruded aluminum to integrate anti-corrosion protection with lighter structures, produce parts with equal or greater strength than traditional ones, and design versatility.
Bullish on Innovation' Is 'Bullish on Aluminum Extrusion'
Highly regarded author, research scientist and global trends analyst Vaclav Smil believes the demise of U.S. manufacturing would also mean the end of creativity. As he told Wired magazine: "Innovation is tied to the process of making things." In other words, the manufacturing sector is the most important and productive creativity engine.
Most innovation, Smil said, results from a company's desire to extend product reach, improve costs, or increase returns. Well in advance of the new Ford F150's unveiling, he pointed out: "Innovation usually arises from somebody taking a product already in production and making it better. Innovation always starts with a product."
In the same interview, Smil referenced "better aluminum" as an example of innovation that product-inspired, manufacturing-driven creativity can generate. That is why extrusion technology is uniquely important as aluminum's force multiplier. It is a production technique that can make the second most-used metal into an industry game-changer, from product R&D through manufacturing.
The breakthrough composition of a consumer truck body may have spiked more juice and interest around what aluminum makes possible. But the newly energized R&D thinking and creative problem-solving that's on display isn't limited to the material that enables making lighter planes, trains and automobiles.
Smil likely would approve of any manufacturer that combines innovation-driven aluminum and extrusion as a unique opportunity to spark big, creative leaps forward.